With the right personnel on site, your job site can become even more safe. Here's what a safety staffing service can bring to the table.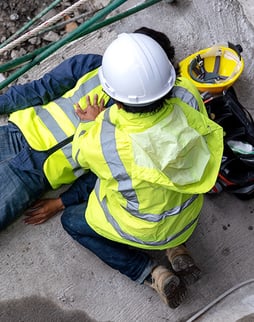 Protecting workers, assets and infrastructure is the highest priority at any job site. But it's not always easy to source safety personnel with the skills and industry expertise needed. A safety staffing service could be the best solution if you're having trouble filling a job.
To source qualified candidates, staffing companies actively recruit and maintain a network of safety specialists, and will tap this pool of talent at your request. Having the right people at the right place and time mitigates risk on the job site and for your organization.
Benefits of Using Safety Staffing Services
Finding a suitable candidate for a specialized position is a lengthy process that diverts many company resources. When you choose to outsource recruiting, it saves time and money—all you have to do is specify your requirements and vet pre-selected applicants.
Turning to a company offering safety staffing services makes sense when you want to source highly qualified candidates for short-term work. Employees interested in this type of job are often tricky to find without help. A safety staffing service has access to a range of personnel—specialists who are explicitly looking for project-particular opportunities.
A staffing service can also fill gaps if your job needs fluctuate. For example, when you want to fill a role on short notice or need to staff-up for a new project.

3 Types of Risk Safety Staffing Services Can Mitigate
In addition to sourcing the right talent quickly, using a staffing service can help reduce various job site risks
Risk of Non-Compliance
Several organizations set out rules for job safety, including NFPA, OSHA and CFR. Non-compliance with safety regulations may lead to fines and penalties for your organization. Being out of compliance also puts your job site at risk.
A safety staffing service can provide knowledgeable personnel to help you stay on top of compliance activities. With their background and expertise, you can rest assured that documentation, testing and certification are appropriately handled.
Risk to Worker Safety
Employees are your most valuable resource—protecting them means choosing the right individuals to fill your organization's safety roles. When you use a staffing company to source qualified personnel, you minimize risks to worker safety:
Third-party staff can focus entirely on job site safety without the distraction of managing day-to-day operations
An external safety professional is a fresh set of eyes that can help identify work site hazards that may have gone unnoticed
Experienced safety personnel will anticipate and mitigate risks to workers
Safety contractors bring an in-depth knowledge of best practices to your work site
Safety staffing services have a deep pool of applicants to draw from. The service will find applicants with the skills and experience needed to keep workers safe on your job site.
Risk to Your Facility or Assets
Keeping workers safe is a top priority, but protecting corporate assets from harm is also essential. A qualified safety professional will make a difference when it comes to mitigating risk to physical assets.
Experienced contractors have the hard-won knowledge to identify hazards that could damage your facility. With a safety staffing service, you'll be able to find someone (quickly and easily) with the right industry experience.